Tuko Pamoja Album Released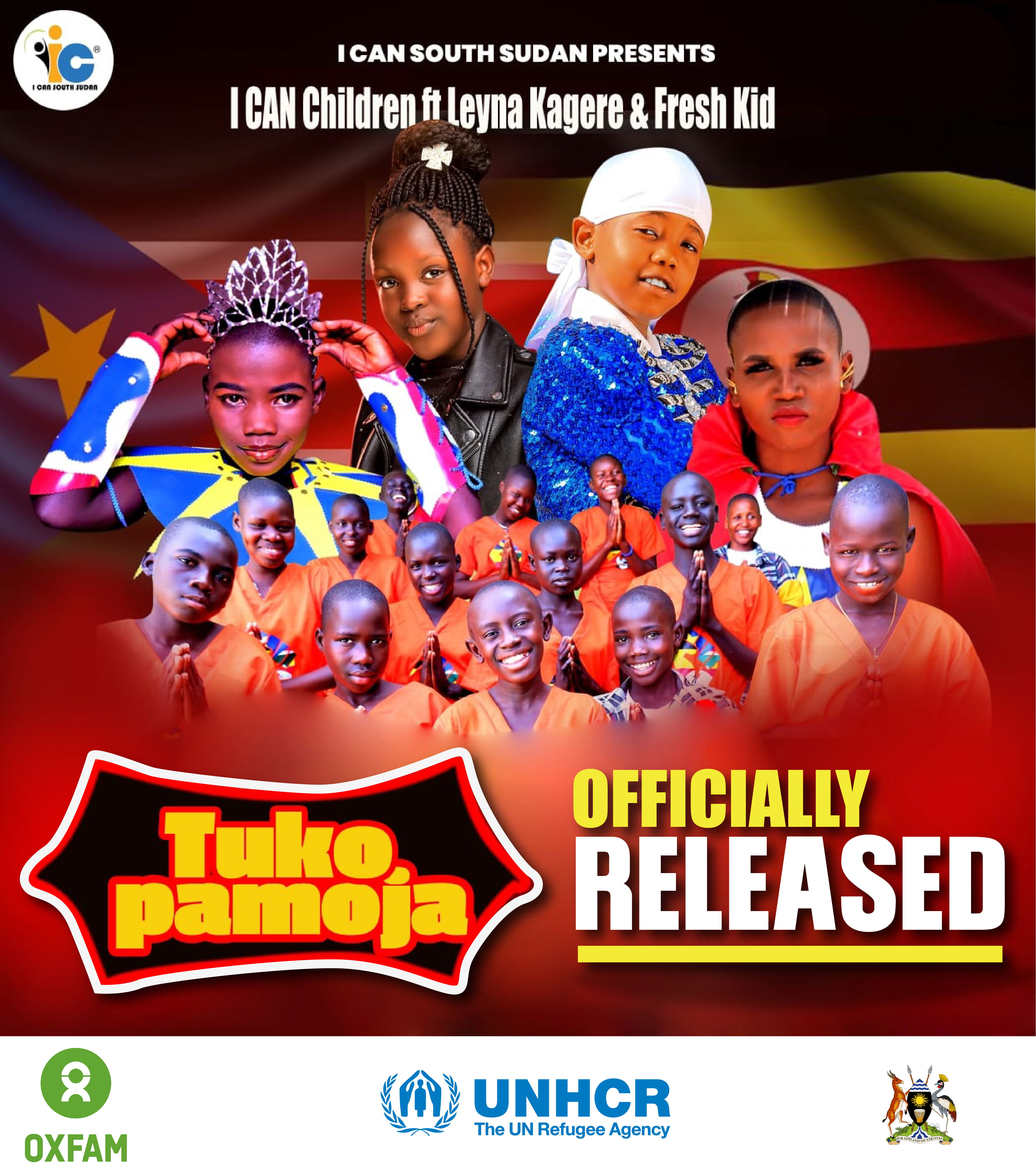 Press Release 18th November 2022

TUKO PAMOJA (WE ARE ONE) ALBUM LAUNCH Refugee Children from Bidibidi Refugee Settlement … featuringLeynaKagere, and Fresh Kid Video debuts on Friday, 18 November 2022. Kampala. 18th November 2022. Refugee Children from the Bidibidi Refugee settlement (I CAN children), through a song Tuko Pamoja translated as "WE ARE ONE", appreciate Uganda for its open-door policy to welcoming refugees and asylum seekers and call for the continued spirit of Ubuntu to ensure their safe and happy stay. Featuring the East Africa Golden Buzzer Girl Leyna Kagere and Uganda Popular Kid Rapper Fresh Kid, the song lyrics say that "We are African. We are one people. Let us maintain the spirit of Ubuntu". Link to the Video here https://www.youtube.com/watch?v=_lkvOezHCVI
According to the, I CAN South Sudan Executive Director, Stephen Wandu, Tuko Pamoja Album aims to provide a platform for vulnerable children to directly have a say about their plight and to seek support towards their education, development, protection, and well-being. I CAN Children are unaccompanied refugee minors under the refugee-led organization called I CAN South Sudan Program. The minors fled the South Sudan conflict en masse in 2016 with near strangers and settled in Bidibidi Refugee Settlement. Although some were reunited with their families, others were put under some form of foster care. I CAN South Sudan focuses on the children to inculcate a sense of meaning, purpose, and hope in the lives of vulnerable children and to contribute to developing them socially, mentally, spiritually, and physically.
Wandu said, "We engage the children in singing, drawing and painting, comedy, storytelling, sports and games, life skills, public speaking, appropriate sex education, counseling, and healing programs with the vulnerable host community."
"The children are teaching us to celebrate and embrace our uniqueness using the arts. They are expressing their innermost experience through this song with a beautiful tone of hope and resilience - and through music, they are strengthening their bond with the host community," said Frank Walusimbi, UNHCR's Associate Communications Officer.
Through TUKO PAMOJA, the kids get to put their talent to use and express themselves while passing on a key message. Through the song, the children, I CAN South Sudan, and the supporting partners would like to pass on the following Appeal
We would like all to live in more equal, peaceful, and gender-just societies based on inclusive human rights and accounting institutions. We are African.
We are one people. Let us maintain the spirit of Ubuntu.
We call upon the world to increase funding to Uganda as it committed to the Global Compact for Refugees to ease the pressures on host countries.
We call for a fair share of funding to be directed to the plight of children in Uganda to reduce school dropouts, child marriage, child pregnancy, street children, and neglect of children with disability.
We call on host districts to secure refugee farmlands for cultivation to ward off decreasing food rations from the UN. -----ENDS-------- Notes to Editors Tuko Pamoja Album has been recorded within the context of the Humanitarian, Development,and Peace Initiative for the Crisis-Affected Populations in Uganda, funded by Oxfam and the Danish International Development Agency (DANIDA). I CANSouth Sudan is a legally registered Refugee-Led Organization, based in Bidibidi Refugee Settlement, Zone1, focusing on vulnerable children and women. Our vision is to create a better everyday life for displaced children. For more information, reach I CAN South Sudan: Email: icankids829@gmail.com Cellphone: +256 774 857262 / +256 770 640569 Twitter: @ICANSouthSudan3 Website: www.icansouthsudan.com